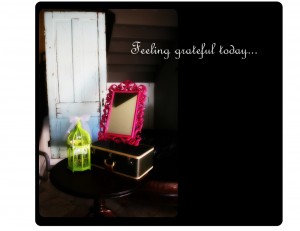 I haven't done this in a while…
Today, at this very moment, I am grateful:
for my family.
for my friends.
for music that makes me smile.
for movies that make me laugh, no matter how stupid they are.
for creativity.
for the smell of clean clothes right out of the dryer.
for a simple home-cooked meal.
for candles.
for Angry Birds.  Seriously.  Don't judge.
for The Real Housewives of _____.  Doesn't matter where, it is always a train wreck worth watching to make me realize my life is normal.
for swimming pools.
for a nice glass of Pinot Noir after a long day.
for Sharpie pens.
for Mt. Dew.
for, and this is a big one, being free in SO many ways to be me.
for feather pillows.
for all of those little moments that fly by unnoticed and unacknowledged, but that make up most of life.
for snuggles.
for popcorn with real butter on it.  Lots of butter.
for pretzel M&M's.
for a good book and a comfy couch.
for the opportunities in life to share my creative spirit with others.
for 4″ heels, even though I am already about 6'0″ tall.
for gumption.
for black and white photos.
I will stop here for today.  I have one last thing to be thankful for that I will share – my class at Confectionique.  Here is the link for info.
Happy Tuesday.