I am blessed to have some really great friends across several companies in the craft business.  One of them is a great gal that works atColorbok.  She dropped off a box of goodies on Friday that included some really fun stuff for the boys to do some craft projects with.  Since it is National Craft Month, it seemed more than appropriate to break it out and have a crafty night with the kids!  It is a great way to spend time together – playing, creating, learning, and trying something new.  It was definitely fun!
He made this super cute and colorful bowl: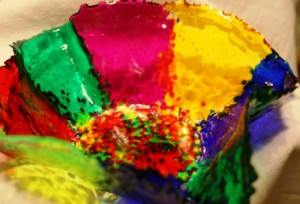 Owen was really excited to give the MakeIt & BakeIt kit a try and was just dying to get his hands on it.  So, we tore the box open and got busy crafting.  He absolutely loved it and has already asked if he can make another bowl tonight! It does require adult help since you are using the oven, but it is no harder than Shrinky Dinks or something similar would be.
Here's a little video of him having fun that we shot while playing…
Now – if you happen to have a young crafter at your house who might also find this to be a fun little project, leave a comment here for your chance to win one of these great Colorbok kits, as well as a pair of Fiskars kid scissors! I will draw a winner Wednesday night!