As a kid, I remember spending what felt like hours, painstakingly coloring each of my little shrinky dink creations.  I would carefully fill in with colored pencil, making sure that it was just-so.  I also remember the excitement of my mom placing them in the oven… sitting, watching, and waiting.  It is only a few minutes, but to a child, those were the longest minutes on the clock.  I am not sure what I ever did with these little pieces of art.  I am sure like most little things held so dear by kids when they are making them, they fall to the land of under the bed dustbunnies, never to be seen again.
Recently I rediscovered my passion for shrinky dinks – and I was 5 again in my mom's kitchen making art.
This time, however, instead of creating something destined to fall away, I made a bracelet.  A funky and odd little creation, but I enjoyed the process so much.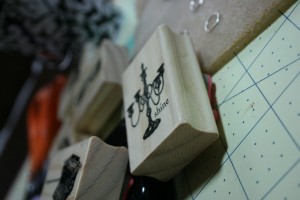 I grabbed some whimsical little stamps that I had found in a dollar bin, all with a vintage image and little word or saying.  I had intended to use them for cards, but this seemed like a good use as well.  I grabbed my StayzOn and stamped on the shiny side of the shrinky dink paper – you can buy plain sheet packs at most craft stores now.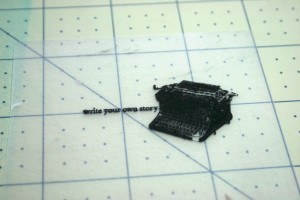 Using my scissors, I carefully cut each charm out.  I marked them all at 3 x 2 or 2 x3, depending on the direction of the stamp, knowing that they would shrink drastically in the oven later.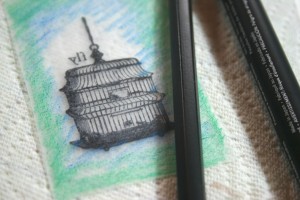 Next I turned them over and grabbed my colored pencils.  I began carefully coloring and shading along the way.  Using a blender pen, something I would have died for as a kid, I mixed, shaded, and colored until my heart was content.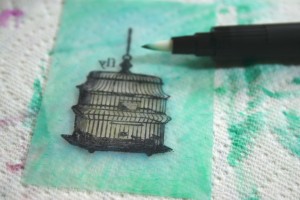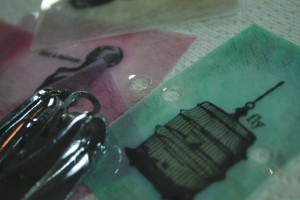 Next I grabbed my hole punch and carefully punched holes in each charm.
Then came my favorite part…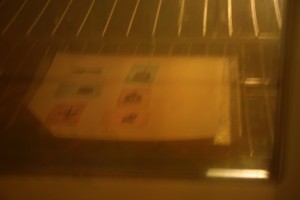 the oven.  While this picture is terrible, it definitely represents that part that I loved as a kid… the waiting and then the curl and shrink and ultimate flattening back out of the creation.
Finally, I got myself my jump rings, tools, and clasp and linked it all together to create my little bracelet.

It was fun and easy to make…  might be a fun project for the young girl in your life.  Grab some stamps and colored pencils and create some old school fun!