Last night was a night for a nice comfort food meal… homemade individual chicken pot pies.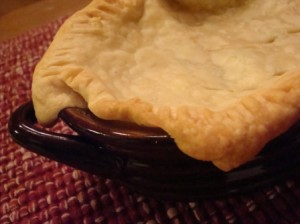 This recipe is one that I have been working on and testing over and over again until I finally got it where I am super happy with it. Now, I feel like I can finally share it with others. I hope that if you choose to make that you enjoy it as much as we do!
Comfort Food Chicken Pot Pies
Ingredients:
2 T. extra virgin olive oil
3 boneless skinless chicken breasts
2 celery stalks
1 C. carrots
1 yellow onion
1/2 T. chopped garlic
1/4 t. Herbs de Provence
dash or two of red pepper flake
3 T. butter
3 T. flour
1/2 C. half and half
1 1/2 C. low sodium chicken stock
1 T. dijon mustard
1 C. frozen peas
1 package with 2 rolls of pre-made pie crust
cooking spray
Pre-heat the oven to 425 (or what your pie crust box recommends).
Set your burner to medium heat and warm up a large non-stick saute pan.  Add in 2 T. of olive oil and add in chicken, lightly seasoning it with salt and pepper.  Cook until chicken is almost cooked through.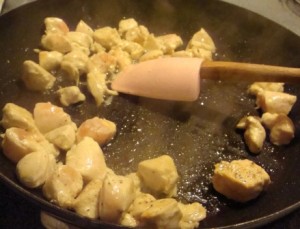 While the chicken is cooking, chop celery, carrots, and onion.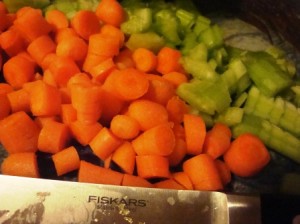 Once the chicken is almost done, add celery, carrots, and onion to pan.  Again season to taste with salt and pepper.  Add in garlic, Herbs de Provence, and red pepper flakes.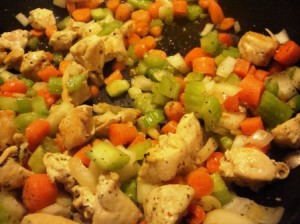 While the vegitables are softening and the chicken is finishing, heat a small non-stick saute pan on high heat.  Add in butter and flour.  Melt the butter, stirring in the flour to create a rue.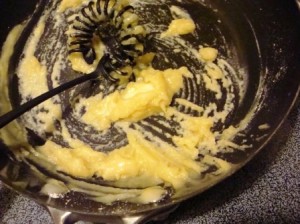 Once the rue is done, (perfectly mixed and a light golden color) the chicken and veggie mix should be done.  Increase the heat to medium-high and slide the rue into the pan with the mix.  Gently mix in.  Add in half and half, stir until combined and the mixture begins to thicken. Next mix in the dijon mustard.  Slowly add in half of the chicken stock, stirring until thickened again.  Add the remainder of the stock and again stir and thicken.  Add peas and stir for about 1 more minute.  Turn of the heat and let the mixture sit.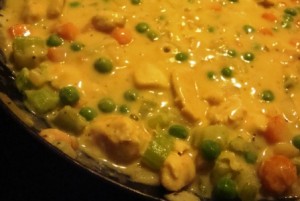 Spray 4 ceramic individual sized baking dishes with cooking spray.  Divide mixture between the 4 and fill them up.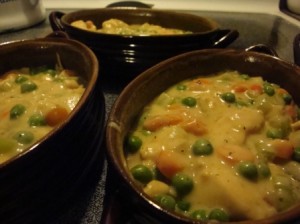 Grab your pie dough and cover.  Now – we like a lot of crust on the top… so we split the 2 rolls in half and cover each in half.  If, however, you would like less, feel free to use one roll, roll it thinner with a rolling pin, and cut it in 4's.  It is all up to you!
Once they are covered, be sure to tighten the edges and use a fork to seal it down.  Then, take a knife and pierce the top to let the heat escape.  Since I was doing them for the kids and Matt, I used our initials to make each one personalized.
Place them in the oven and let them cook until the crust is lightly golden brown.  For me, it is usually 16-18 minutes or so…
After they are done, pull them out of the oven and let them cool for about 3 minutes.  For the kids, I put them on a plate just to be safe since they were in a 425 degree oven.  Then, I put them in front of the kids, hand them a fork, and let them dig in.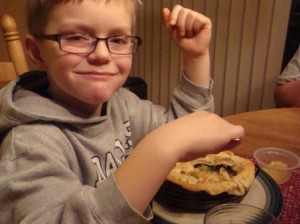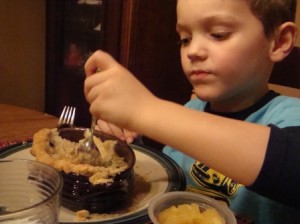 They cleaned their plates and dinner was fairly quiet.  That usually means I did something right…  or at least not awful!
If you make this, let me know what you think and how it turns out.  And, enjoy.