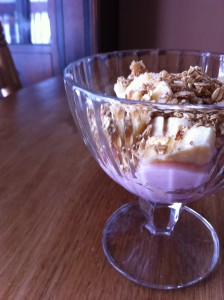 Don't we need that some days? A yummy and healthy snack break? Well, over the weekend I had fun making the boys something other than a granola bar –  out of the package in the snack drawer – and they not only appreciated a "made" snack, but devoured it as well!
Yogurt parfaits are super simple to make and you can do several variations, but this is what we did… a delish strawberry banana version.
Strawberry Banana Yummy Parfait (1 serving)
1 single serve yogurt cup – strawberry – with fruit pieces
1/2 banana sliced
10 almonds – smashed and/or chopped
1/2 c. granola cereal
Mix the granola and almonds together and put to the side.  Then you will create two layers for your parfait.  Put 1/2 of the yogurt into the bottom of the dish, add half of your banana slices and half of your granola and almond mix.  Repeat.  Serve.  Enjoy the smiles.
Quick.  Simple.  Yummy.