So, a little while ago I shared some close-up shots on my CHA sneak peek of what I had been working on. Now that I have finally gotten home and back into the groove, I was able to get the pics off of my camera to share.
The year we decided to go with a true "window" look for our displays in the booth.  The backgrounds were muted and white – highlighting the brand.  The projects were big and bold – highlighting what the tools empower you to do.  I was blessed to be able to make 3 of the 4 large art projects, as well as all 4 of the smaller, more practical-application projects. 
Here's what I made…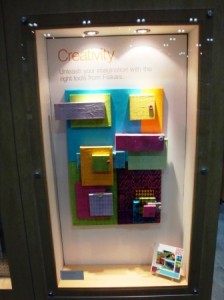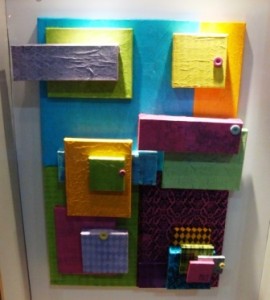 First was this canvas and then coordinating layout.  I took some of the Fiskars clear stamps and used the large backgrounds.  I stamped gray on tissue and adhered them with Collage Pauge.  Everything built toward the bottom right corner where I shifted to black ink and made a bold, deep explosion on the canvas.  The canvases were all layered and hot glued on to add depth and dimension.  I love this one – in real life the colors and stamped layers just pop off the canvas.
Next was our fabric tree and coordinating bird.  This was to highlight our rotary cutters and scissors.  For this one, I did have some help making the several hundred leaves that I added.  Thank you Jessica!  It was a lot of work to make the leaves, but for me, putting the whole thing together and then staging it in the case was a true labor of love and the result was stunning in person.  It was foam core cut and covered with brown wide corduroy and the leaves were double sided with adhesive and stick pins in the middle.  Foam blocks were added to sections of the back to add extra dimension in the case and the bird was hung from the top of the case with fishing line.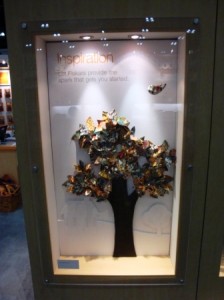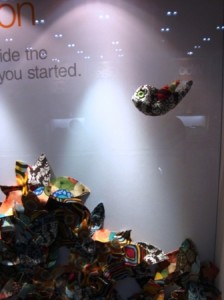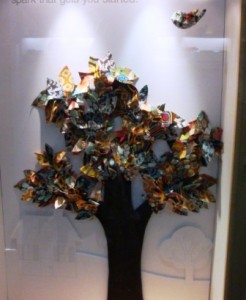 Finally, this one I am the most proud of and the one that I am completely in love with.  The dress form and coordinating card/invitation.
As soon as I saw our new spring and summer punches, (the ones I used are summer and are not out just quite yet – but they are coming!)  I was inspired and knew what I was going to make for this display.  The bodice is all punched paper sea shells out of beautiful shades of Bazzill Bling paper and the skirt is made from watercolor paper painted with Perfect Pearls then border punched.  This was hanging in my cube for more than 6 weeks waiting to go to the show because I worked on it until it was done because I was so exited to do this project.  It just fit with the theme so perfectly!  I am still giddy about this one (which doesn't happen often for me – I am too hypercritical of my own work to normally be satisfied with anything…)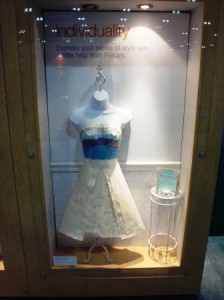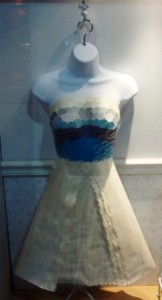 I know these pictures are not the best, but with the lighting at the show and in the cases, it was hard to get stellar shots.  I just wanted to be able to share with you at least a sense of what I got to do and what I got to create for this show.
Thanks for stopping to look…  I truly do appreciate it!