Now, I am the first one to admit it – I have a true obsession for watching bad reality tv, including the Real Housewives series on Bravo.  I enjoy the drama, the look inside the lifestyle, and the fashions.  I really do love it.  Even more than that, I love the live after show with Andy Cohen, who is just a tad too cute.
Now, while I enjoy this, in my mind and my life it is extremely far from real.  I am guessing for most of us, the below photos and story are a tad  more "real"  and a little closer to home than what we see as real on tv.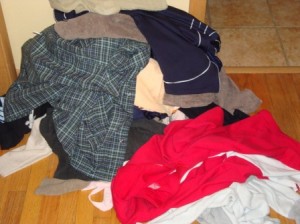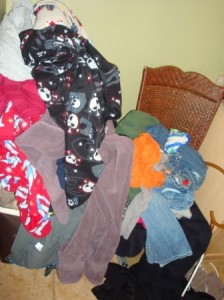 This past week – literally 7 days – I was away for work at the Craft and Hobby Trade Show in Los Angeles.  It was a great trip, but it was working long days.  This was not a break from work or vacation by any stretch.  When you spend time in the trade show booth all day, attend work dinners, and still have your regular load to work on before and after the show closes each day, you often wonder when you will sleep.  This was one of those trips.
While I was gone, Matt functioned as a single dad and was single-handedly taking care of the kids.  It was rough on all of us – the kids especially.  Travelling like that is never fun by day 4…  all you want is a home cooked meal and your own bed.
Now – I am not complaining about my job – DON'T GET ME WRONG…  I love what I do, but the reality is I work hard for long hours at a time.  I love what it…  it can just be exhausting at times.
So when I come home, unlike my favorite shows there is no nanny, maid, or worker to do the jobs at hand.  It is still me.  So when I got home and saw the piles above, along with what I brought home from a week away, I knew what I would be doing this weekend. 
Laundry. 
I love most of the different tasks that are necessary in life.
Cooking
Making the bed.
Vacuuming.
I, however, cannot stand laundry.  It is that pile that never ends.  As soon as you are done, the basket is full again and you are off on the next round.  It is never done. 
So, here is where I am going…  If I ever in my life become a "real" housewife, the first item on my docket is to employ someone, anyone, to do the laundry.  Job one. 
And, while we are at it, if they could clean the toilets and floors around them (I have 3 boys living in this house), that would be a bonus, but I don't want to be greedy.
Just sayin'…
Now, I am off to start my Friday night in style.  Time to wash the towels.