I keep forgetting to share some fun pics from Halloween.
Jacob has recently brought to my attention that this is his favorite holiday – ever – because the meaning of Halloween is candy.  What could be more important or better than that, mom?  How do you argue with 5 year old thinking like that.  I am guessing at 5, that does seem pretty important and cool.
One of our favorite new traditions here in WI is that our church does trunk or treat the Thursday before Halloween.  Last year it rained, so we had to move it inside.  This year it was clear and beautiful – colder than cold – but beautiful.  We decorated our trunk and the boys had a blast handing out candy and trunk or treating themselves.  Then, they spent some time sitting in the car to keep warm until Matt was able to run back with blankets, hats, coats, and gloves.  Yes – it really was THAT cold.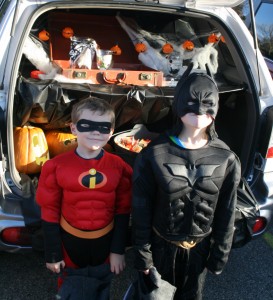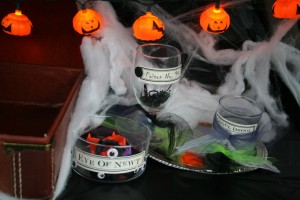 The boys both went as superheros…  Owen was Batman and Jacob was Dash from the Incredibles.  They love to dress up as superheros, so this was a great Halloween!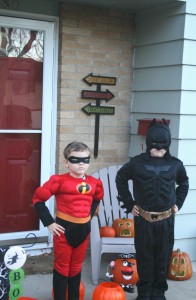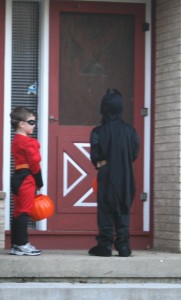 The other fun Halloween stuff we did was to make some fun decorations this year.  It is amazing what some colorful tulle, ribbon, and mini-canvases can create.  It was inexpensive, but cute and fun and I had a blast making some great little bits to share.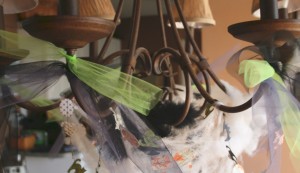 Our dining room light seems to be the place I like to hang stuff from – at birthdays, Christmas, Thanksgiving – it doesn't matter.  So, I decided it needed some tulle, a punched paper string, some cobwebs, and some faux fur to spook it up a little.

I took some 4×4 canvases and gave them some layers of glimmer mist and then had fun embellishing them (a Thanksgiving version – in a tutorial – will be coming soon!)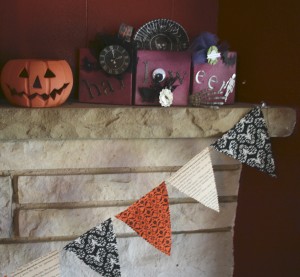 As you can see, I did a purple version, too, and them made a little pennant banner to decorate the fireplace.  It was all simple little touches, but they all added an air of fun.
The final touches were things like changing out family photos in frames to spooky versions I created at picnik.com, as well as just spook-i-fying some regular candle holders with tulle and ribbon.  It was fast and easy!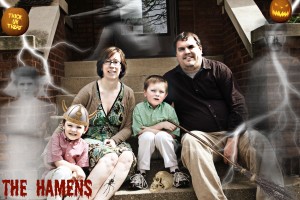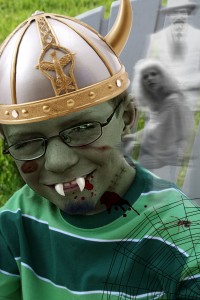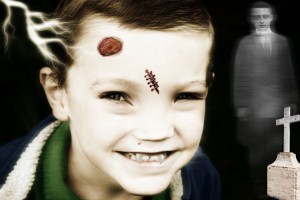 These were a bit creepy, but the kids had a blast helping me to create their pictures.  We just printed them and put them in the frames that are normally on the mantle, for one more fun Halloween touch!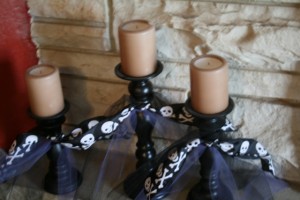 Well, now that Halloween is over, I guess it is time to start thinking about Thanksgiving.  Stay tuned for some upcoming fun…