I know – vintagey is not a word.  At least not a real one…  I still love that word to describe projects that have a vintage feel like this one.
This project was a ton of work, but a true labor of love.  This is the project that I wrote about a few days ago that I was dreaming of finishing.  And now, it is done.  And I am thrilled.
I am a lover of chipboard.  I always have been.  It is amazing to me the shear endless possibilities for it.  This project was a chance for me to stretch my creative abilities at some level and try something new yet again.  One of my favorite things right now is layering – layering products together like bling on buttons, mixed with jewels and trims, etc…  I love creating little vignettes of prettiness on a page and this project allowed for that and I love the looks it creates!
Here a list (hopefully almost everything) of what I used:
paper, album, chipboard tools, and embellies from Melody Ross for GCD Studios
Buttons, pins, stickers, and journaling blocks from Jenni Bowlin
Pins from Maya Road
Paintable embellishments from Pink Paislee
Punches, scissors, and craft knife from Fiskars
paint from Ranger – Claudine Hellmuth
alphas from The Girls' Paperie
Charms from 7 Gypsies
Bling and Buttons from Bazzill Basics
Flowers from Prima
Tickets, inker, distress inks, and sander from Tim Holtz
Vintage ribbon, trims, buttons, keys, sweater clip, etc…
misc. bling
Here's how I created the base of the book itself prior to embellishing…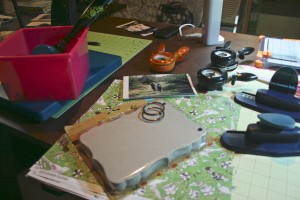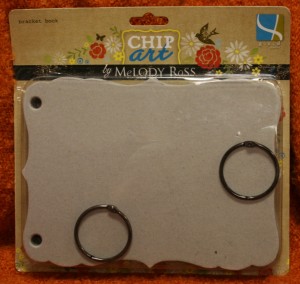 Create stencil with punch and paint image on front of album.         
Lightly mist with water and use chipboard tools to create images.
Lightly paint cover, leaving blank spaces.                                                
Once paint is dry, apply glaze to cover (mix of collage pauge and brown paint)  This creates a feeling of aged wood on the cover.                                                                                              
Cover some pages with paper.  Trim with knife and sand edges.                                                                                             
Paint all pages – blank and with paper – with glaze to create wood feeling and old wallpaper look.                                                                                                                           
Let all of this dry overnight.
Now, the base is built and it is time to play… here is how I finished my book… I hope you enjoy looking at it.