We have a ritual that is a year old now.  On the first day of school, pics in front of the tree in the yard, pics of the backpack on the way to the car, and pics at school.  Yup.  I am that mom…
With having 2 boys and not enough time most days, I wanted to make sure to document these moments in our family album, but also wanted to start their school albums as well.  The decision I came to was that the one for "my" book would be more my style and the one for theirs would be less embarrassingly girly and more simplified and straightforward.
The best find I have made was thanks to my dear scrappy pal Joey Otlo, who happens to work for Bazzill.  They make this amazing Lickety Slip album – it has 12×12 pages and then pages with 4×6 slots for quick and easier scrapping.  When you are doing multiple renditions of the same photos, it is fun to have different ways to get your brain thinking about using those pics.
Here is my layout for the family album…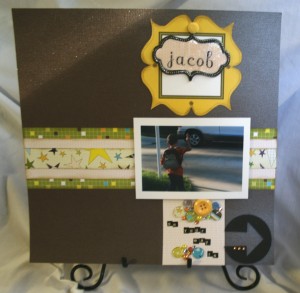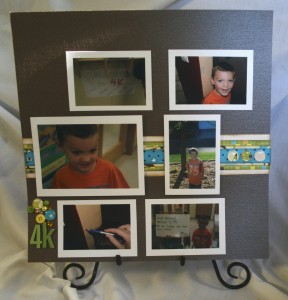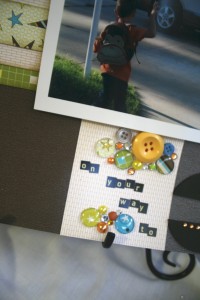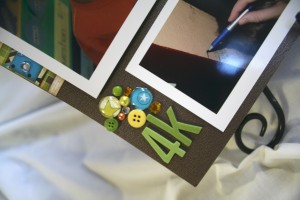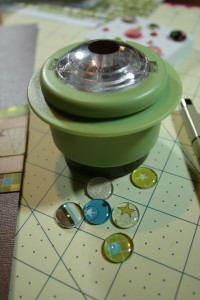 For this one, I had a lot of fun with some absolutely amazing papers fromJillibean Soupand fun making my own embellies with my little button maker from Epiphany Crafts.
Here is the album for Jacob…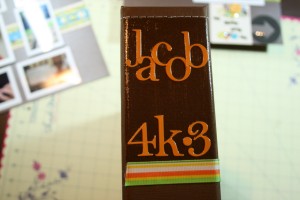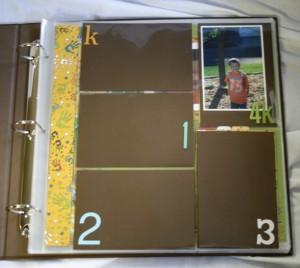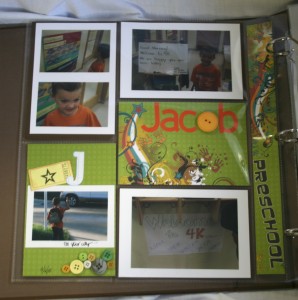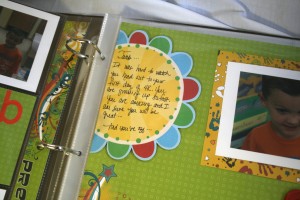 I think it is a ton of fun to do this and the kids love that they have their books.  It makes them feel great to have something that is all their own and look at their books over and over again. 
That is what it is all about, anyway, right?
Happy Scrappin'!