So we had Jacob's 5th birthday party on Saturday with family.  He is a HUGE Paul Frank fan and of course we hit Target for all of their great decorations and stickers.
Then, using my own craftiness, I made a few little dangles to add to the light in the dining room as well as his actual sock monkeys.
After that came the real challenge – a Paul Frank inspired birthday cake.  I am still very shaky on the whole cake decorating front, so this was a true project for me.  One that require Matt make two separate, but sequential trips to the grocery store at the last second before everyone arrived.
In the end, however, I am happy with how it turned out.  All that really mattered was that Jacob loved it.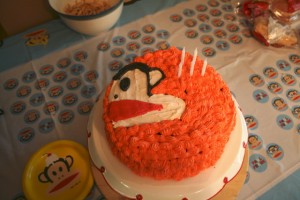 To see pics of his 5 year old album, you can go to the Fiskateer site!