No really, I did…  and here is why…
First, I read this book by the amazing and talented Kathy Cano-Murillo.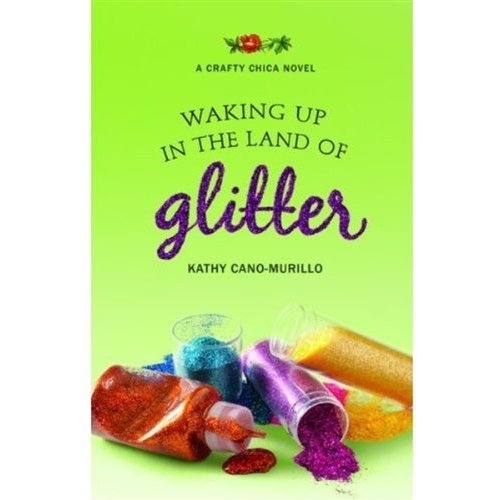 Which you can purchase **here** from Amazon…
It is a wonderfully well-written story of Craftistas from Phoenix and their journey together through friendship, heartache, and crafting.  Kathy tells the story in such an amazing way that you want to be a part of their crafting group, enjoying great music and food at La Pachanga, and just enjoying the art culture of Phoenix.  It was a really enjoyable read and I highly recommend it to any crafter looking for inspiration and affirmation of what we do as crafters.  I guarantee you will either personally identify with one of the people in the story or be able to think of a fellow crafter while reading it.  If you are looking for a great book – this one is at the top of my recommendation list!
Then, after reading the book, my glittery side was uber excited to create a love shrine using her kit… (which you can purchase **here** if you are so inclined)
I started working on this last week, but it took me longer than I thought and I got sidetracked over and over again.  I also had to make a run to buy Slow Pokes to add the wrapper to it – they are something that I will forever associate with my grandpa. This is the flower from the previous post – the first one I have ever made – using one of my grandmother's crochet needles (this is NOT hers on the box however – I sacrificed a new one for the box and saved hers!)  My grandpa is known for the large amount of quarters he not only carries with him, but lovingly and magically doles out to the grandchildren and great grandchildren and non-relative children, etc… in his life.  It is amazing how something as simple as a quarter makes me pause to think of him.  I am so blessed to still have time with him and so are my boys.  Anyway…  I am hoping that the love shine is shining through my love shrine… (say that 5 times fast!)
Now I know a lot of you have seen this picture of them a few times…  since my grandma passed, it has become a favorite of mine.  It is by far the best photo I have of them.  So, it had to be the focal point of this project.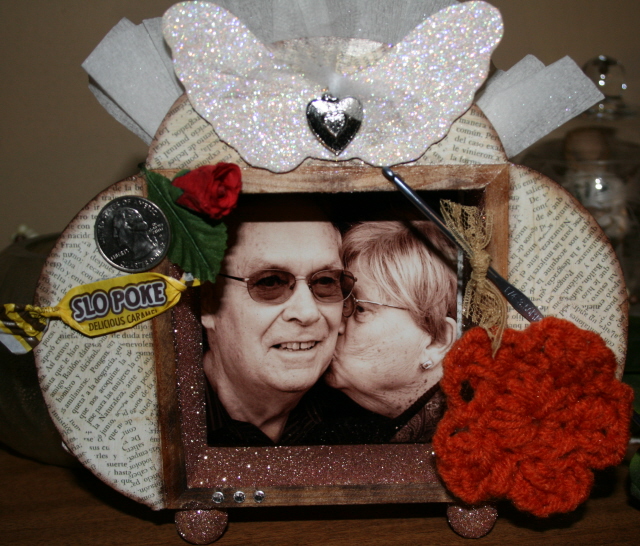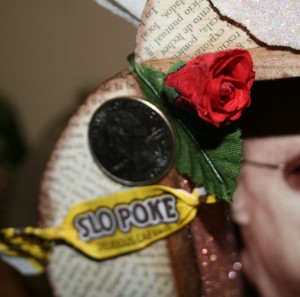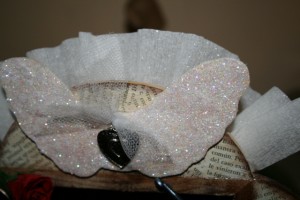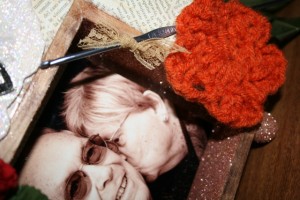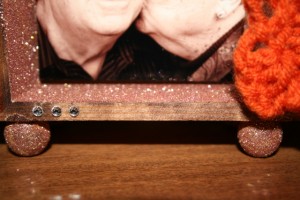 I have always loved glitter – the mess it creates, however, maybe not as much.  I use it in moderation here or there with protective coverings as to not spread the sparkle too far.  Recently, however, I have begun to understand the true power of adding glitter – literally and figuratively – to my life.  And, last night after completing my project I went to bed with the super fine stuff stuck to my pj's and woke up with it in my hair.  And you know what – it just added a little extra shimmer to my day.
Thanks, Kathy, for helping me embrace my glittery side!