That's what Sunday was.  The sun was shining.  It was actually nice out – 35 or so.  The wind was barely blowing and the kids could venture outside to play for more than 5 minutes without freezing to death!
So, we bundled them up and sent them out.  And they made their first snowman by themselves.  It was short and a little off shaped, but by golly they did it alone.  I felt so much pride as I watched them from the deck.  They even went over to our neighbor's house and made them a little one, too.  Their grandkids live far enough away that they love it when the boys chat with them and do stuff like that.  Needless to say, it was a ton of fun to watch and take pictures of.
Last night I did some midweek crafting which I am trying to do more of.  (I am actually guest blogging on this topic and finding inspiration later this week at ella…  be sure to check it out!)  I created a similar layout to this one last week (again – at ella later this week) and liked it so much that I used the basis of it to create this one.  For me, going with really white paper and a minimalistic feel is hard.  It is much easier for me to put a bunch of buttons, mix several papers together, etc… than it is to go very simplistic.  And yet, when I do, I love the look.  I am just not as good at it as I could be.  (Maybe some more midweek crafting breaks will help – don't you think!?!?!?)
Anyway…  Here is the layout…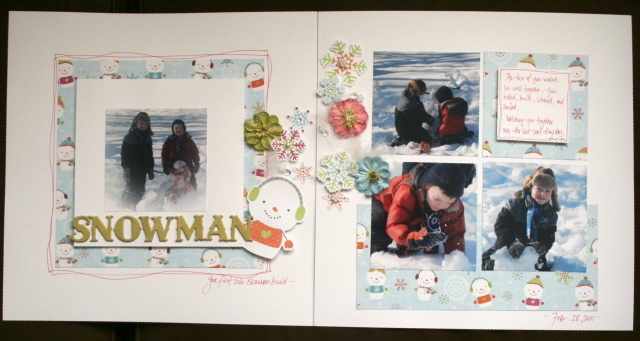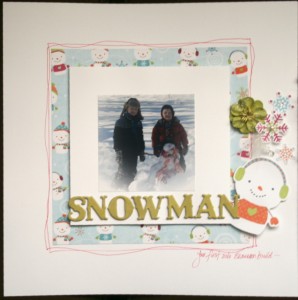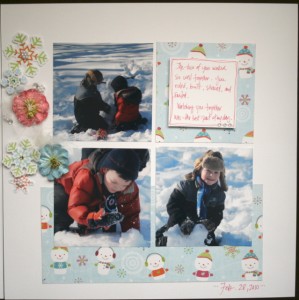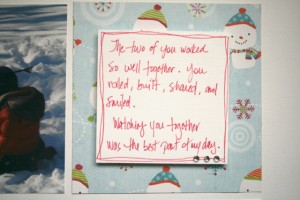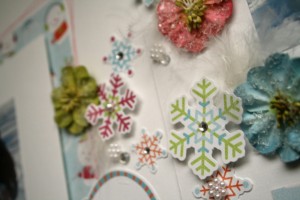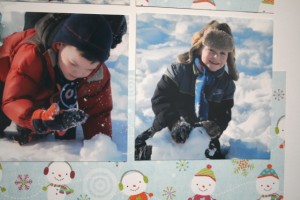 (Paper is My Mind's Eye, flowers from Prima, fluffy stuff is Heidi Grace, and bling is Colorbok and Making Memories.)
Happy National Craft Month!