I know. No one ever listens when I talk about my need to lose weight. What you don't understand or see is that my height truly does help hide it and 197.2 does not look the same on me as it does on someone who is 5'2″. However, it does not change the fact that I weighed in last Wednesday at a weight that I am not proud to say I have not been since I was 9 1/2 months preggers with either boy.
Yes. 197.2 (Thanks Weight Watchers scale… I would hate to have missed that ".2")
This is the current state of my coffee table, thanks to Christmas and the holidays. We bought none of this. This was all gifted to us.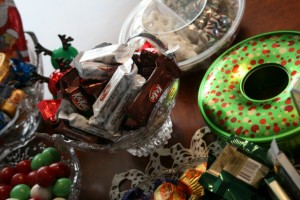 My plan is to first get rid of all of this. I have to. It is toooooooo tempting to keep around. Anyone interested?
I don't have a grand plan this year to lose the weight. I just want to get started by getting rid of this ginormous stash, eating better, eating less, and actually getting off my keaster and getting back to moving…
How about you… Wanna go for a walk with me today?